Situated in Calgary's downtown west end, The Archive of the Commons is designed as a museum that reconsiders death care infrastructures within the contemporary city. Through challenging existing conventions and cultural perceptions about end-of-life processes, it proposes a vision of an urban typology which reconnects meaningful ways of civic remembrance and celebration with a radical and ecological approach to funerary practices.

While societies are becoming increasingly cognizant of their environmental footprints in life, post-mortem ecological impacts have, in comparison, been examined with less scrutiny. Consequentially, mainstream funerary customs have created an unsustainable and toxic infrastructure of death tethered to chemical preservation (i.e. formaldehyde embalmment), materially-intensive ground burials (i.e. in the construction of massive quantities of steel and hardwood caskets, and concrete grave liners), and emissions-heavy cremation, contributing to widespread landscape contamination all in the face of a large aging demographic and depleting global resources.

Rejecting the ecologically damaging, financially burdensome, and oftentimes emotionally unfulfilling customs that shape the modern funeral industry, the project proposal looks to natural or "green" burial as a means of deep investment into urban ecology, drawing on principles of conservation, regenerative design, energy-efficiency, and eliminating unsustainable building materials when possible to produce a holistic and productive architecture.


The architectural proposal expresses a deep approach to ecology while creating a culturally meaningful public experience that is simultaneously a building, an urban place, a park, a repository for knowledge, and a regenerative ecosystem. Digital archives, exhibition halls, multifunctional event and ceremonial spaces, extensive memorial gardens, an intensive living roof and tree nursery, as well as a regenerative after-death facility that promotes the rapid decomposition of human remains into soil comprise the programmatic functions of the museum between two levels with robust public rooftop amenities. The building form is described by a prefabricated heavy timber wall with permeable transitions that reinforce the presence of the museum and allowing for the integration of interior and exterior systems to the user experience of the facility.

ARCHIVE OF THE COMMONS
2021

Software/Skills:
Rhino, Revit, Blender, Ai, Ps, Pr

Team:
Vivian Ton

Supervisor:
Philip Vandermey

entrance garden, crossing the threshold onto the site
concept diagram
programmatic strategies
exploring the spiritual, body, material, and immaterial thresholds
site axonometric
1:100
site plan
1:200
level 1 plan
1:100
level 2 plan
1:100
south elevation
1:100
north elevation
1:100
east elevation
1:100
west elevation
1:100
ceremonial space above the soil bank.
section A
1:100
section B
1:100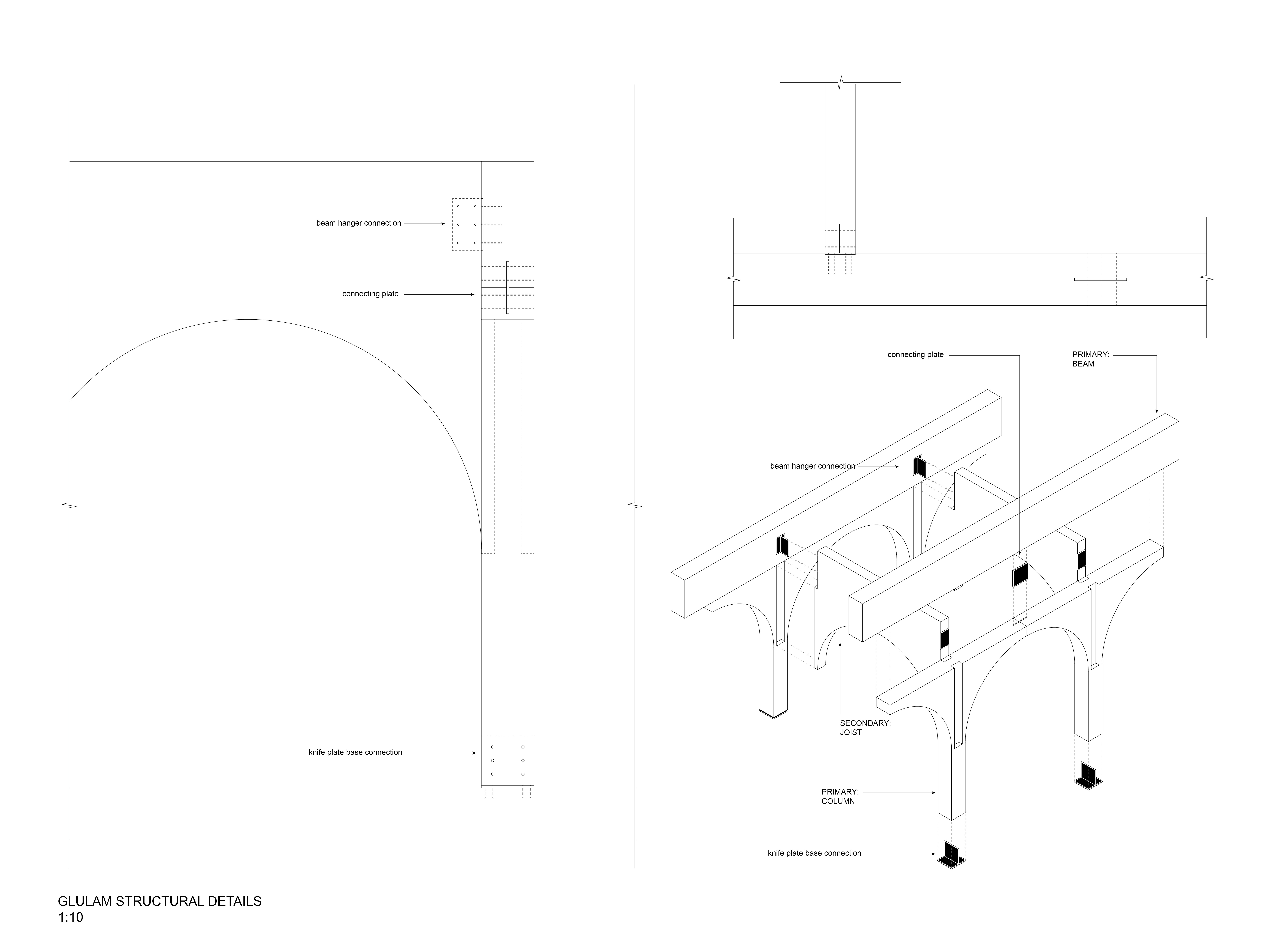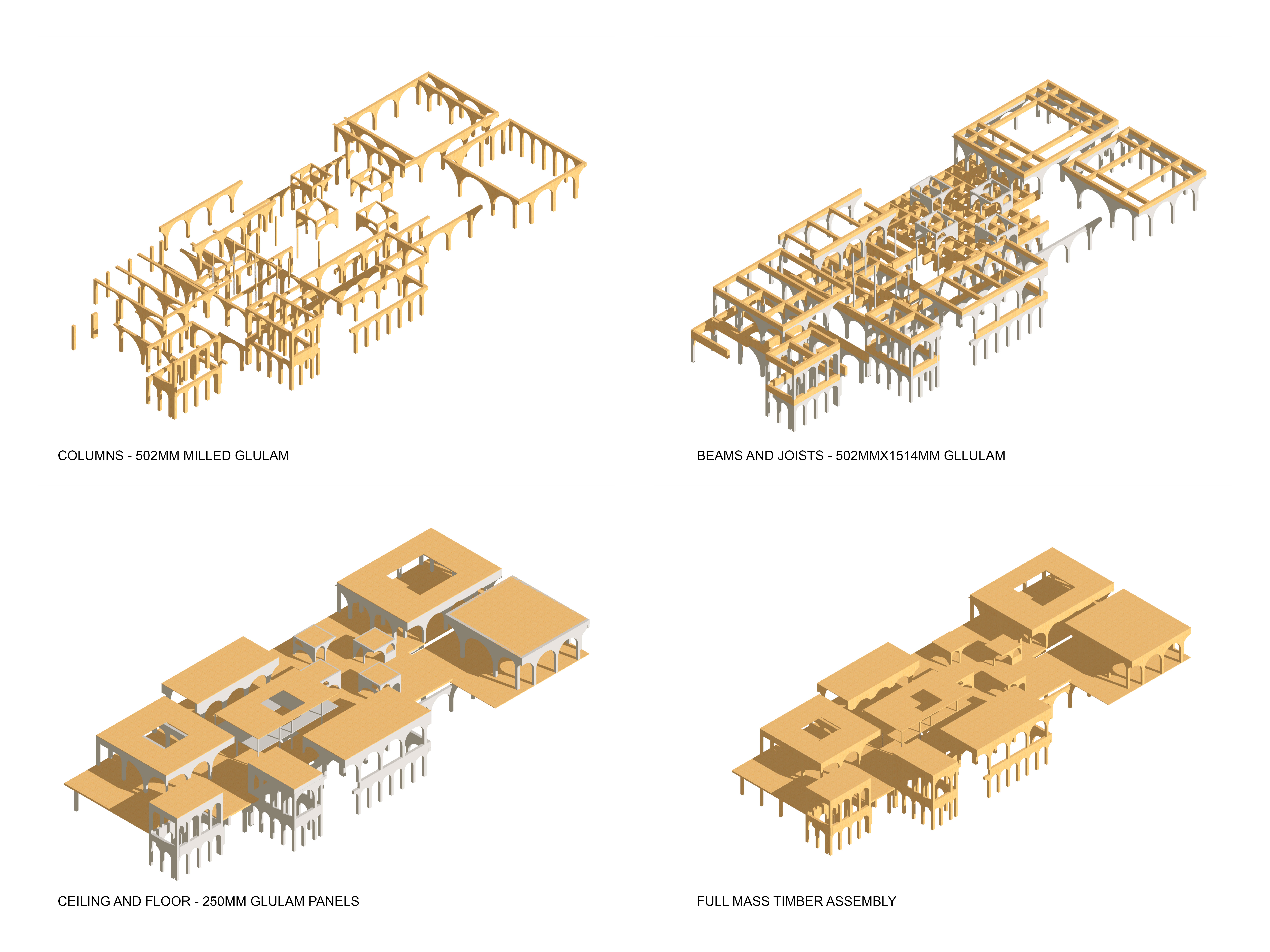 main gallery exhibition hall
reading room among the roof garden tree nursery